The Mobility Performance Framework (MPF) provides guidance on how to assess mobility in order to achieve the state's transportation system mobility goal: To improve the predictable movement of goods and people throughout Washington State, including congestion relief and improved freight mobility (Washington State Legislature, RCW 47.04.280, Transportation system policy goals).
Key Elements of the Mobility Performance Framework
A key intent of the Mobility Performance Framework (MPF) is for it to be scalable across the entire range of tasks that WSDOT undertakes. A guide for selecting and analyzing performance measures for different project tasks is provided elsewhere on this website on the Choose by Project Task page.
The specific performance measures and metrics identified for the MPF are organized under three objectives: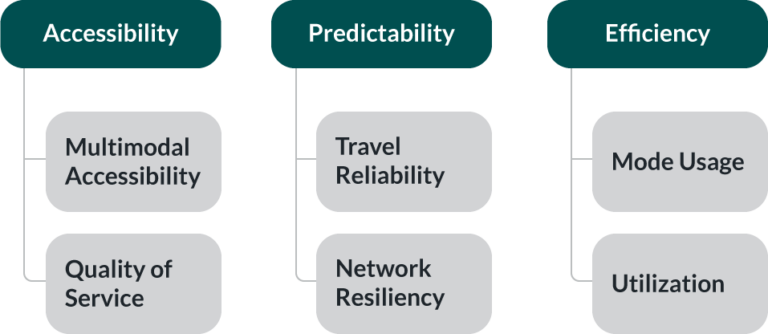 The performance measures on this website are intended to be useful for a wide variety of project types and contexts. However, there are many potential approaches to evaluating how WSDOT investments and partnerships may affect the transportation system. The performance measures presented here are a starting point for analysts.
PERFORMANCE MEASURE
PERFORMANCE METRICS
PROJECT TASKS
APPROPRIATE CONTEXTS
ACCESSIBILITY
Category: Multimodal Accessibility
Major Destinations Accessible
Access to jobs by driving, transit, biking, and walking (Access Score Work)
Assess Alternative Strategies

Refine Solutions

Assign Resources
Urban core

Town/urban

Suburban

Rural*
Access to non-work destinations by driving, transit, biking, and walking (Access Score Non-Work)
Assess Alternative Strategies

Refine Solutions

Assign Resources
Urban core

Town/urban

Suburban
Pedestrian Facility Availability & Connectivity
Percent of missing pedestrian facilities within xx mile on each side of corridor segment
Identify Needs

Assess Alternative Strategies

Refine Solutions
Urban core

Town/urban

Suburban

Rural*
Pedestrian crossing opportunities per mile
Identify Needs

Assess Alternative Strategies

Refine Solutions
Urban core

Town/urban

Suburban

Rural*
Intersection density
Identify Needs

Assess Alternative Strategies

Refine Solutions
Urban core

Town/urban

Suburban
Pedestrian crossing opportunities per mile
Manage Assets

Refine Solutions
Urban core

Town/urban

Suburban

Rural*
Bicycle Facility Availability & Connectivity
Percent of missing bicycle facilities within xx miles on each side of corridor segment
Refine Solutions

Assign Resources

Develop Funded Solutions
Urban core

Town/urban

Suburban

Rural*
Transit Facility Availability & Connectivity
Presence of local transit/regional service
Identify Needs

Assess Alternative Strategies

Assign Resources
Urban core

Town/urban

Suburban

Rural*
Population/jobs within 1/2 mile of transit stop
Refine Solutions

Assign Resources
Urban core

Town/urban

Suburban*
Frequency of transit service
Assess Alternative Strategies

Refine Solutions
Urban core

Town/urban

Suburban*

Rural*
ACCESSIBILITY
Category: Quality of Service
Motorist Quality of Service
Hours of traffic congestion
Assess Alternative Strategies

Refine Solutions
Urban core

Town/urban

Suburban*
Intersection delay
Identify Needs

Assess Alternative Strategies

Refine Solutions
Urban core

Town/urban

Suburban

Rural*
Travel time (speed), autos and transit
Identify Needs

Assess Alternative Strategies

Refine Solutions
Urban core

Town/urban

Suburban*

Rural*
Transit Rider Quality of Service
Transit Facility Availability & Connectivity (several performance metrics)
Assess Alternative Strategies

Refine Solutions
Urban core

Town/urban

Suburban

Rural
Major Destinations Accessible(two performance metrics)
Identify Needs

Assess Alternative Strategies

Refine Solutions
Urban core

Town/urban

Suburban

Rural
Travel time (speed)
Identify Needs

Assess Alternative Strategies

Refine Solutions
Urban core*

Town/urban*

Suburban

Rural
Transit mode shift potential tool
Identify Needs

Assess Alternative Strategies

Refine Solutions
Urban core

Town/urban

Suburban

Rural*
Pedestrian Quality of Service
Level of pedestrian stress
Refine Solutions
Urban core

Town/urban

Suburban

Rural*
Bicycle Quality of Service
Bicyclist level of traffic stress
Refine Solutions
Urban core

Town/urban

Suburban

Rural*
PREDICTABILITY
Category: Travel Reliability
Modal Reliability
Travel time reliability
Identify Needs

Assess Alternative Strategies

Refine Solutions

Assign Resources
Urban core

Town/urban

Suburban*

Rural*
Ferry reliability
Assess Alternative Strategies

Refine Solutions

Assign Resources
Urban core*

Town/urban*

Suburban*
Percent transit on-time
Refine Solutions

Assign Resources
Urban core

Town/urban

Suburban*
PREDICTABILITY
Category: Network Resiliency
Multimodal Redundancy
Percent of corridor segments lacking a connecting and parallel network (by mode: roadway, pedestrian, bicycle, transit)
Manage Assets

Identify Needs

Assess Alternative Strategies

Refine Solutions

Assign Resources

Develop Funded Solutions
Urban core

Town/urban

Suburban

Rural*
EFFICIENCY
Category: Mode Usage
Mode Share
Percent mode shares (by mode)
Assess Alternative Strategies

Refine Solutions
Urban core

Town/urban

Suburban

Rural*
Transit mode shift potential (commuter, non-commuter)
Identify Needs

Assess Alternative Strategies

Refine Solutions
Urban core

Town/urban

Suburban

Rural*
EFFICIENCY
Category: Utilization
Person Occupancy
Persons per vehicle (PMT/VMT)
Identify Needs

Assess Alternative Strategies

Refine Solutions
Urban core

Town/urban

Suburban*

Rural*
Multimodal Capacity Usage
Ferry persons carried per capacity provided
Assess Alternative Strategies

Refine Solutions

Assign Resources
Urban core*

Town/urban*

Suburban*
Transit persons carried per capacity provided
Assess Alternative Strategies

Refine Solutions

Assign Resources
Urban core*

Town/urban*

Suburban*
Intercity rail persons carried per capacity provided
Assess Alternative Strategies

Refine Solutions

Assign Resources
Urban core*

Town/urban*

Suburban*
Throughput
Vehicle throughput
Identify Needs

Assess Alternative Strategies

Refine Solutions

Assign Resources
Urban core

Town/urban

Suburban

Rural
Person throughput
Identify Needs

Assess Alternative Strategies

Refine Solutions

Assign Resources
Urban core

Town/urban

Suburban

Rural*
Freight throughput
Assess Alternative Strategies

Refine Solutions
Urban core*

Town/urban*

Suburban*

Rural*
*sometimes applicable, refer to metric description for more detail